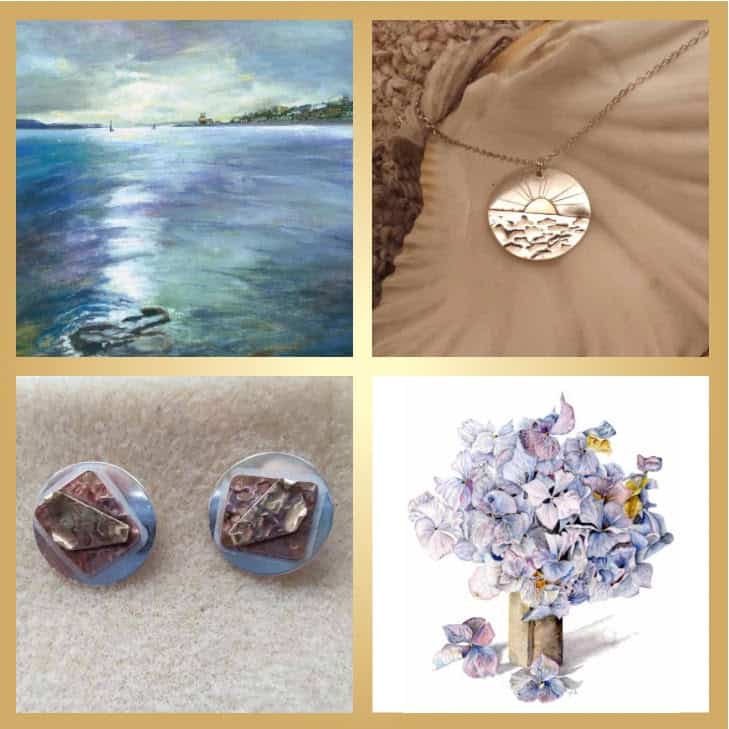 Connect with the artist:
See you at Burgh Hall this year with Paddy's botanical studies, landscapes, cards and bits, and Leonie's jewellery and artwork. Visitors welcome at home by app
Leonie and Paddy are part of a family of  5 siblings, born and brought up on a remote farm in Africa,where we spent many happy hours outside exploring, until we hit the prison of boarding school! As soon as we could pick up tools, crafts and painting were an essential part of our lives and we always loved recording the things we saw and experienced.
Paddy: I trained as a nurse, later retrained as a teacher of English and Latin, then retrained as a priest. I ministered for 20 years in Scotland in country parishes,  and am now retired in Dunoon, where I still help out a bit in my church. I have always painted, and have attended a wide range of courses -perhaps the culmination being Botanical Illustration at the Edinburgh Royal Botanical Gardens. I am increasingly in awe of the wonder of the earth – the plants, the rocks, the sea treasures, the sounds, the swirl of water, the change in seasons and find myself loving the hours spent in detailed work. It is a kind of meditation, a path into the vastness that underlies all.
Prints and cards are available for most of the images on this site.Do enquire.
Leonie: After 10 years working with adults with special needs, I retired in 2017 and moved to Dunoon in February this year.
I have always been attracted to really wild places and over the course of my life I have been able to spend time in a number of them, including the deserts of Sudan, Sinai and the Sahara, as well as Alaska and the canyons of Utah. Not in a professional capacity, simply answering the call of the wild as I heard it in my heart. I settled in Scotland over 25 years ago and began to explore and develop the artist/craftswoman of me in a variety of ways. In particular, I have made jewellery using semi-precious stones and latterly I have started metalsmithing, working in silver, copper and brass, to make jewellery and small sculptures. My trade name of earthnotes.scotland is there to suggest the sense I have of receiving the gifts of nature as my source of inspiration.
Location
Directions:
From A82 to A815, head for sea front which becomes Alexandra Parade. From Hunter's Quay ferry turn left, foot ferry turn right. Big white house by garage/store
Facilities:
Parking available
Toilet facilties
Opening hours:
As for Burgh Hall