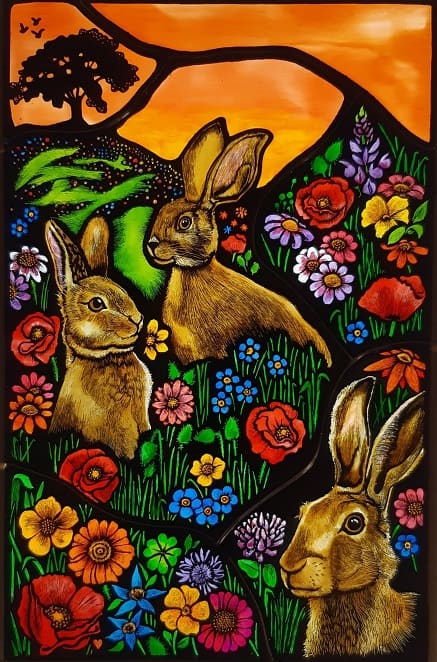 Connect with the artist:
My work in painted glass is inspired by nature - I aim to create an uplifting, inspiring and joyous effect as light shines through and ignites the colours.
My work in painted glass began (strangely) when, due to a change in his circumstances, my partner had to give up his tank of tropical fish. I wanted to create a virtual fish tank for him that captured the colours and movement of the fish through water, but didn't require feeding or looking after! After that piece I saw inspiration everywhere, from the morning rush at the bird table to the strange things lurking in a rock pool.
I spend my time between my family home in Linlithgow and my seafront home in Dunoon, on the West Coast. I'm incredibly lucky in that both places are beautiful and inspirational in different ways, and I try to capture this in my artwork.
Location
Directions:
Flat 4, Hoop House, 109D Bullwood Road, Dunoon. Three parking spaces available at the top of the drive. Enter by the gate at the back and follow signposting.
Facilities:
Parking available
Purchase with credit/debit cards
Toilet facilties
Opening hours:
ART AT EASTER (16-17 April): 10:00 - 17:00

COWAL OPEN STUDIOS (23 - 26 September):
Friday: 10:00 - 18:00
Saturday/Sunday: 10:00 - 17:00
Monday: 10:00 - 18:00

Otherwise by appointment only.