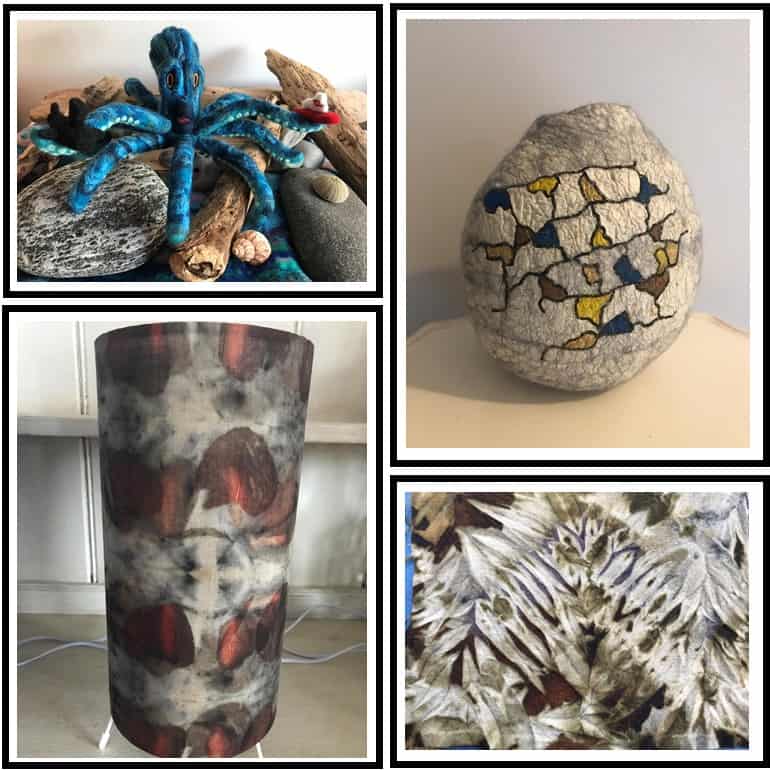 Connect with the artist:
Come for a visit and learn more about the crafts of eco-printing, needle/wet felting. See what can be made using many different colourful wools and fibres.
I was given a needle felting book and kit by my husband and daughter 6 years ago and fell in love with this addictive craft.  What began as a hobby has grown arms and legs and hopefully, I can help spread my love of all things woolly through my handcrafted felting and fibre work.
It is such a wonderful, natural craft using fibres that are environmentally friendly.  I like to think that one day my pieces will harmlessly and naturally degrade once more into the earth.  Fibre is such a lovely medium to work with and enjoy.  The colours and feel of each different wool and silk is amazing.
At the start of 2020 I moved to the Cowal Peninsula from Ayrshire.  I have spent my first few years learning and experiencing my new local area through this wonderful group of artists.
My inspiration comes from all around me.  I have through needle felting made interpretations of my favourite characters from books, myth and film.  My pieces hopefully make people connect through memories and experiences shared.  I love being lost and wandering in the world of imagination and magic and work to express this in the pieces that I design and make.
More recently, with my new location, I am allowing my work to follow natural patterns that I see around me, with a twist of course.  I love the ocean and living here I can draw upon the many different emotions and colours of water and follow the stories of those that live besides, on and underneath her.  The pieces that I make are slowly reflecting this change in location.
Recently I have begun to wet felt with wool, silks and all other fabulous fibres that I come across.  It is such a wonderful process whereby you truly only see what you have created after the piece has dried.  It is only then that you see the interaction of different fibres in a piece of felted cloth and see the shiny silks peeking through the merino wools. I have used this process to make cobweb scarves and clothing for my needle felted art dolls.
Over the past year or so I have been learning from a number of experienced fibre artists from around the world.  I have learned about the magical 3D fibre art of Pam de Groot and the surface design knowledge of Fiona Duthie. Drawing upon all of this learning I will spend a good time developing and using it to design and create my own pieces, wet felted and added to using many other elements of design and art.  Over the past year I have researched embroidery, dyeing fabric and fibre, using found objects in your art and so much more.  I have a lot to take in and practice!
Working with fibre is such a sensory experience and one that can transcend many barriers.  I recently made a Twiddle Muff using wet felting processes.  A Twiddle Muff is a sensory device to help calm and focus the mind of those suffering with dementia, anxiety and can be helpful used with children with autism and ADHD.  It functions to simply give the hands something to touch and different textures and colours to focus and play with in times of agitation and stress, bringing the mind back to the moment.  You can see it in my gallery photos and it is as yet a prototype, one of a kind!
Eco-printing is such a wonderful technique to use and is becoming increasingly environmentally friendly.  I have been taught by Nicola Brown at Clasheen how to print using my pot as mordant without the traditional synthetic mordants.  It has opened us gorgeous ways of using local vegetation (in a sustainable way!) to print fabric.  Now I am learning how to dye fibres and fabrics with plants, flowers and woods.  Finding ways to protect and respect our natural environment is so wonderful.  Up-cycling and creating fabrics that are friendly to our skin and bodies is a happy byproduct of this process.
I love to work on private commissions and can be contacted to make anything that you can imagine.  If you want to chat with me regarding a project, please feel free to contact me and we can discuss what you would like to see brought to life.
I love the concept of an imaginarium as it is simply a place where the imagination lives and is allowed the freedom to express itself.  I hope to make this live through my felting work.
Location
Directions:
Head for Toward Lighthouse, keep right and follow for Port Lamont until you see school crossing signs, I am in the first house on the left in 'The Hollies'
Facilities:
Parking available
Purchase with credit/debit cards
Toilet facilties
Opening hours:
During the Open Studios on the 16th & 17th April I will be open 10-5.

Out with the Open Studios, by appointment only. Contact can be made via my website or mobile.