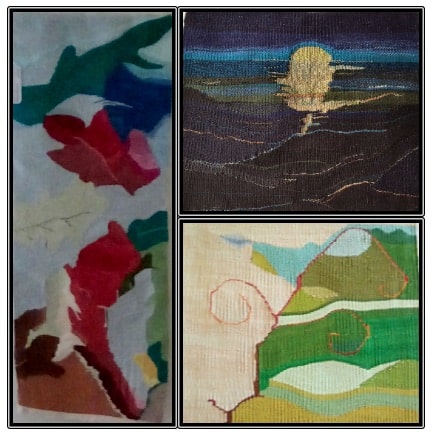 Connect with the artist:
A warm welcome awaits you at Aldersyde. Tapestry demonstration during COS. Be inspired learn tapestry weaving at my workshops on a 1:1 basis or a small group.
I studied my BA in Textiles at W.S.C.A.D, Surrey. Since completing my degree I have exhibited in galleries in England and Scotland in conjunction with teaching and running workshops.
Tapestry combines the opportunity of spontaneity whilst developing in a measured way as you create your weaving.      I create contemporary miniature tapestries using natural fibres and metals. Cowal Peninsula is breath taking and holds never ending inspiration for my work. I am surrounded by Coast and Water the theme for this years works.  Please come visit me during COS weekend or by appointment.
You can follow my work here and at Lorna's Handwoven Tapestries on facebook or on Instagram
To book a workshop or to purchase a piece of my work please contact me by email at ldmorrish@hotmail.co.uk
Location
Directions:
Park in layby at St Mun's Church, Kilmun. Aldersyde is the white bungalow on the right. Please enter garden through gate. Follow directions in garden.
Facilities:
Parking available
Toilet facilties
Opening hours:
Fri-Mon 10am-5pm during COS weekend. Otherwise contact by appointment